The oil-free compressed air station with very quiet running
The scroll compressor combines creative ingenuity with advanced technology to provide a high quality, oil-free compressed air solution.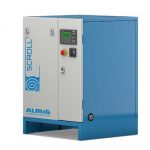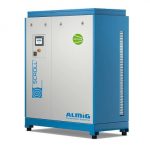 The 100% oil-free Scroll series is equipped with a highly efficient IE 3 motor and operates very quietly and smoothly. The compact design makes the units ideal for installation in small and limited spaces or directly at the workplace.
The systems operate in the flow rate range of 0.41 – 1.64 m3/min with an operating pressure of 8 bar.
Due to the low-maintenance V-belt drive, the drive power of 4 – 15 kW is transmitted almost without loss.